St Mary's is a strong faith community that celebrates its faith fully by actions and words. It is a parish community in which the school, children and parents collaborate to create a Catholic identity founded on Christ. The religious education program is vital to the faith development of the students. We aim to ensure that the Gospel values permeate all aspects of school life by offering the opportunities for the students to live out their faith in action. The Social Justice Committee raises money and awareness of current social issues.
Teachers utilise the Pedagogy of Encounter when collaborating to plan Religious Education learning programs. This process recontextualises scripture to help students encounter their faith in a contemporary context and find spiritual meaning through a Catholic lens relevant to their lives.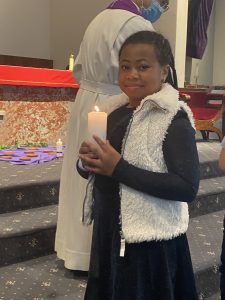 Sacrament and Liturgy
The staff and students gather regularly to celebrate liturgy. We come together to celebrate the Eucharist throughout the year and for major feast days in the Liturgical calendar
Students have the opportunity to participate in a school and home-based Sacramental program for:
Year 3 Reconciliation –at a special evening celebration
Year 4 Eucharist – over several Sunday Masses
Year 6 Confirmation – Celebrated at a Sunday Mass
Prayer
In our prayer life at St. Mary's the children are provided with a variety of expressions and practices of prayer. We have initiated Christian Meditation as a practice allowing children to grow in intimacy and experience the presence of God within them.