St.Mary's Primary School aims to develop our student's educational, physical, social, spiritual and emotional wellbeing. By providing a safe, supportive and nurturing environment we aim to contribute to the development of our students sense of self worth, their enthusiasm for learning and their optimism for the future.
For children to reach their potential we promote independence and leadership in student learning. Physically and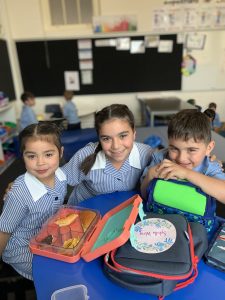 emotionally  healthy students are happy, able to deal positively with life's challenges and experience connectedness with the school and community. We believe this enhanced student wellbeing contributes significantly to improved student learning outcomes.
To assist us in this area we utilize a number of programs such as:
Circle Time
Buddy Program (between Preps and senior students)
Student Leaders from Grade 6 – School and House Captains.
Student Representative Council (SRC) elected from and by all grades
Transition program for new preps featuring playgroup and formal orientation days
Transition between classes including teacher handover and student change-over day
Transition to Secondary School for Year 6
Behaviour and Anti-Bullying Policies and Procedures.
The Student wellbeing coordinator and special needs coordinator ensure programs such as Blue Earth and Seasons are available for students.
The Student Wellbeing Support Group meet regularly to discuss student needs and provide advice and strategies for classroom teachers.
Restorative Practices: A philosophy for living
We want to build a community that has quality relationships coupled with clear expectations and limits. We want to use teachable moments to enhance our interactions with students where we can help them to repair damaged relationships. This helps build a community that is forward looking, optimistic and inclusive.
A restorative approach puts repairing harm done to relationships and people over and above the need for assigning blame and dispensing punishment.
Key values create an ethos of respect, inclusion, accountability and taking responsibility, commitment to relationships, impartiality, being non-judgemental, collaboration, empowerment and emotional articulacy.
Key skills include active listening, facilitating dialogue and problem-solving, listening to and expressing emotion and empowering others to take ownership of problems.
There are also processes and practices that help to prevent harm and conflict occurring and which build a sense of belonging, safety and social responsibility. These include Circle Time and Restorative Pedagogy (teachers modelling the values and skills and creating opportunities for their development amongst the students whatever the subject being taught).