St.Mary's Primary School aims to develop our student's educational, physical, social, spiritual and emotional wellbeing. By providing a safe, supportive and nurturing environment we aim to contribute to the development of our students sense of self worth, their enthusiasm for learning and their optimism for the future.
For children to reach their potential we promote independence and leadership in student learning. Physically and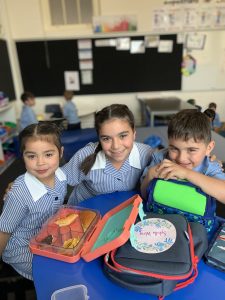 emotionally  healthy students are happy, able to deal positively with life's challenges and experience connectedness with the school and community. We believe this enhanced student wellbeing contributes significantly to improved student learning outcomes.
To assist us in this area we utilize a number of programs such as:
Circle Time
Buddy Program (between Preps and senior students)
Student Leaders from Grade 6
Student Representative Council (SRC)

, Social Justice Team members and Sustainability Team members

elected from

 

G

rades

3- 6

Transition program for new preps featuring playgroup and formal orientation days
Transition between classes including teacher handover and student change-over day
Transition to Secondary School for Year 6

The teaching of Emotional Literacy and the Zones of Regulation

Peaceful Kids program

Cyber Safety

Child Safety – Daniel Morcombe program

St John's Ambulance First Aid incursion for students

Behaviour and Anti-Bullying Policies and Procedures.